Saranjan Tours respects your right to privacy. Our mission is to provide you with the best independent travel services and tours to Spain, Portugal and other European destinations.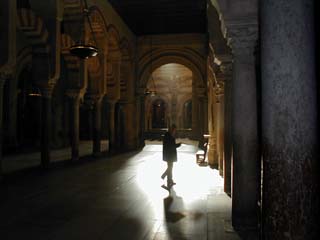 This Web site collects no personal information about users, unless you choose to fill in the contact form to request additional information or send comments. Our policy is that we will not share the information you give us with any third party without your permission. Any information that we do not discard immediately after processing is stored either in a secure database on a server that is inaccessible through the Internet, or in paper form in a secure location. Our computer systems and physical records are protected by a security system.
Mailing list
If you have received some e-mail from Saranjan.com that you think is in error, or if you once subscribed to our mailing list but you would like to be removed, just check the Remove option on the contact us page, provide your name and email address, and we will promptly correct the situation.
Note that if you receive spam or a virus infected message that appears to come from Saranjan.com, it is likely using a forged return address. Please do not complain about such a message unless you can ascertain that it actually comes from us. There are several computer viruses that extract addresses at random from the address book on infected computers, and then use those addresses as fake return addresses for virus carrying messages they send to other random addresses also plucked from the address book. Spammers have also been known to fake return addresses of innocent parties to hide their tracks. In case of doubt, your technical services or your Internet Service Provider (ISP) can accurately determine the true source of a message by inspecting the hidden message headers.
Cookies
This Web site attempts to create "cookies" on your computer to enhance your browsing experience by "remembering" topics on which you may want information, so that they are already checked when you go to the contact form. If your browser is set up to block all cookies, this will obviously not work. These are "first party cookies", and they are only used by this web site, and only in the browser to manage the checkboxes. They are also "persistent" cookies, in that they will remain on your computer so that your next visit can also be enhanced. We do not collect any data from these cookies, and we do not allow anyone else to collect any data from them either.
Note that this clicking the button above cannot override the cookie settings for your browser.
Logs
Like all Web servers, the server for this site does keep a log with technical data about connections; we analyze this log from time to time to better serve our visitors; for example, the log allows us to compile statistics on which Web browsers our visitors tend to use most. We also use the log to analyze the quality of service; for example, the log allows us to determine when out of date third party links or search engine indexes send users to pages that no longer exist on this site. We cannot identify individual visitors from the data in the log.
Third party linked sites
This site contains links to various other sites. Saranjan Tours cannot be responsible for their privacy policies or how they treat information they may collect about you.