Monday, December 24, 2007
DONA JILL'S BACALHAO TIA CELINHA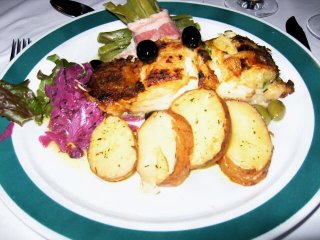 Christmas Eve in Sintra always features the soul of Portuguese cuisine—bacalhao, dried codfish. The recipe also calls for cabbage, hard boiled eggs, potatoes, carrots and a rich béchamel sauce, to be enjoyed with a hearty red wine from the Douro or Alentejo.

The dish recalls Portugal's glory days as much as the great Monument to the Discoveries that stands in Lisbon's Belém quarter, overlooking the Tagus River. Bacalhao is a reminder that the Portuguese sailed to America long before the Spanish—to conquer the rich shoals of cod off Newfoundland. And they kept their discovery to themselves, the better to profit from caravels laden with salted codfish.
Thursday, December 20, 2007
FIRST TAKE A DOZEN EGG YOLKS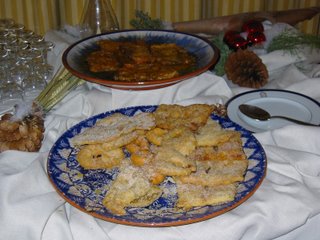 It's not surprising that a country where the one time largest supermarket chain was called Pao de Acucar/Sugarbread would take its pastry making seriously. Every region of Portugal has its specialties, and many are based on eggs, sugar, more eggs, and almonds. We've been following the sugar trail home to Sintra for the holidays…in anticipation.

Our family favorite is the Travesseiro; in the world of Portuguese desserts, this candied pumpkin wrapped in a tissue of pastry is a light-weight, melt in your mouth wonder—a wonder even though it is not named for a favorite dowager aunt or remote corner of Lusitania. The Travesseiro is not a Suspiro de Mancarra or a Queijadinha da Tia Aninhas. Nor does it call for a dozen egg yolks. It is Portuguese pastry-lite.

But when we want to truly indulge, there is only one Portuguese specialty that satisfies-- a Toucinho do Ceu de Portalegre, a name that roughly translates as Heavenly Fat from Portalegre. This potentially heart-stopping pudding requires 500 grams of sugar, 250 of water and ground almonds, 60 of flour, 50 of butter, 9 egg yolks and 3 whites. It is well worth the risk.
Wednesday, December 19, 2007
JAMON JAMON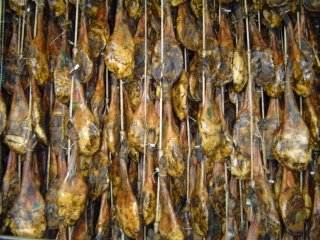 Who would drive 6 hours roundtrip just to purchase a ham? A Portuguese gourmand, for whom a 6 hour return trip is not all work. Badajoz is 3 hours from Lisbon, its shops the nearest purveyors of the one thing the Portuguese will admit is better in Spain—the famed black hooved/pata negra ham. And specifically, it's the famed Cinco Jotas that is most prized.

What makes this ham unlike all others? Terroir. It comes from compact, shaggy black haired pigs that roam freely under the cork oak of the Extremadura hillsides where they feed on acorns, their preferred fodder, until they have developed just the right balance of fat and muscle. Striations of fat in the meat combine with a nutty flavor to make this the king of jamones. A ham will be carried back home to Portugal to repose on a purpose-built sling from which one can more easily shave the slivers of succulent flesh. And what to accompany it? A few olives from local trees and a glass of Borba tinto from the Alentejo.
Friday, December 14, 2007
Urban Fusion
Lisbon is now on the map as a hot European design center. Whether wandering through the Santos quarter with its new emporiums showcasing young Portuguese designers or venturing into the rapidly gentrifying Bairro Alto, you'll find exciting, affordable new designs--from furniture to jewelry.
On a recent trip to Lisbon we wandered up Rua da Rosa, and stopped at Les Mauvais Garçons for a light Continental lunch. This charming bistro would be equally at home in Paris' Marais or Lisbon's quirky Bairro Alto.
http://www.lesmauvaisgarçons.pt/
After lunch we crossed the street to explore Urban Fusion. This airy upside down boutique features European design items as well as works by the owner Katia Gonçalves. The artist/owner shows and sells a line of her soft furnishings and light fixtures. Reasonably priced, we walked out with bags full of clever holiday gifts. We returned later by taxi to Rua da Rosa 14 to pick up the Red Lady.
http://www.urbanfusion.pt/
Thursday, December 13, 2007
Holy Family
The Alentejo region to the east of Lisbon, Portugal is known for its slow growing cork oak, rolling wheatfields and hillsides covered in olive trees crowned by white washed villages and the occasional Moorish castle. Historically one of the poorest parts of the country, and the first to 'go Communist' on the death of the dictator Salazar, today the region is enjoying a revival, thanks to its natural beauty, vineyard potential and ceramics tradition.
A traveler can still glimpse free range pigs and cattle grazing under the cork oak, shepherds and cowboys tending their stock, and small rural towns like Redondo where the pace of life belongs to another era. When touring in the Alentejo, we always stop in Redondo to buy a piece of pottery from one of the local producers. This year the shops were closed for a special event--a young shepherd and the Holy Family were in town.
Wednesday, December 12, 2007
BETHLEHEM OH BETHLEHEM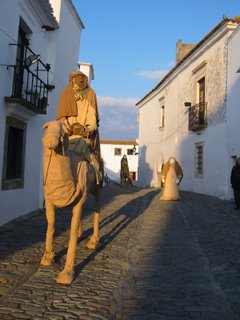 Belenes, Christmas creches, are not unique to Spain and Portugal but the ones we saw this year were impressive. In Granada, booths were selling all the pieces—angels, the Virgin, Baby Jesus and even sausage makers under the palm trees. In Sevilla, small children toured the Belenes at nightfall as the lights illuminated Plaza Nueva and the great Cathedral built on the foundations of the 10th c mosque.

Across the border in Portugal, we came upon a rather special Belen in the village of Monsaraz--life size papier mache camels mounted by the Three Wise Men, shepherds, sheep and donkeys, all processing down the village's main street, past the woman at the well and beggars on the church steps, towards Baby Jesus where He lay in a manager overlooked by an old Moorish tower lit with a star. This vision set the mood for our overnight in an convent in the Alentejo mountains where we were the only guests. And the next day as we drove through the Alentejo towards Lisbon, we came upon the real thing—all the village children gathering in the central praca and dressed for their part. There were shepherds with live lambs, three wise men, village women…and watching over the angels, Joseph, Mary and a real live Baby Jesus stood a very patient mule.