Sunday, March 4, 2007
HEAVENLY HARVEST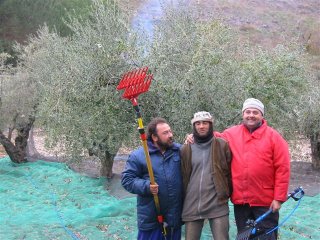 Harvest has come and gone in Montsant, one of the subzones of Priorat in Catalunya. The air is damp cold and the sky deep blue above the massif that overhangs the village of Morera de Montsant, home to Pasanau Germans, one of the appellation's finest producers. Before nightfall I had to reach Escala Deí, literally Stairway to Heaven, home to the first bodega in the region when it only produced communion wines. The old bodega is still there, alongside new producers of excellent wines. Cultivation of grapes in these soils dates back millennia, as does the cultivation of olives.
But today's harvest story was among the olive trees. Outside the walls of the ruined monastery, men carded branches with electric, rubber tipped rakes the way you might fleece sheep; and multicolored arbequina fruit fell into the nets stretched over the ground. This highly prized fruit is an aromatic balance of bitter almond and bright fruits, a metaphor for this harsh yet alluring landscape. The arbequina arrived in Catalunya by way of Arab-ruled Mallorca in the Middle Ages, and became a commercial crop in the 18th century thanks to the support of the Lord of Arbequa.
As with grapes, so with olives—many varietals, many growing regions. Spain's olive production accounts for 44% of the worlds' supply. The first European DO/Denominación de Origen was established in the Catalan province of Lleida in 1975. Elsewhere growers have banded together into co-ops to regulate quality. It was easy to imagine the harvesters in another age, at work outside the walls of an active monastery to supply the monks and the community with much prized oil.